Search:

The Carillon Passages
All Titles
Notices are posted by 10 am Monday through Saturday

❮ Go Back to Listings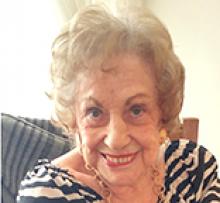 SIMONE DUREAULT (GAGNE)
Born: Dec 18, 1924
Date of Passing: May 02, 2020
Send Flowers to the Family
Offer Condolences or Memory

















SIMONE DUREAULT
(née GAGNE)
18 décembre 1924 - 2 mai 2020

Notre chère Maman nous a quittés paisiblement le samedi 2 mai 2020 à l'âge de 95 ans.
Elle s'est réunie avec son époux adoré, Armand Dureault; ses parents, Adélard Gagné et Clotilde Thériault; ses frères et soeurs, ainsi que de nombreux beaux-frères et nombreuses belles-soeurs. Elle laisse dans le deuil son fils Marc Dureault et sa fille Louise Dureault (Paul Styan).
Simone est née à Clarke City au Québec le 18 décembre 1924, et le Manitoba l'a accueillie en 1958 suite à son mariage avec Armand. Ses souches québécoises ont fait en sorte qu'elle a maintenu des liens profonds avec sa famille ainsi que des amitiés d'enfance et d'adolescence dans la belle province. On se souviendra toujours de Simone comme une 'bonne vivante' avec un sens d'humour aigu, avec tout un répertoire d'histoires amusantes, qui était souvent 'le feu de la Fête'. Elle avait des talents culinaires qu'elle mettait souvent en évidence avec des repas et des soirées entre amis ou avec famille.
On tient à remercier le personnel du Centre Actionmarguerite pour leur attention, leurs soins et surtout leur compassion envers Simone au cours des années.
Une messe privée aura lieu en ce temps de distanciation sociale.
La famille et les amis peuvent signer
le livre de condoléances en ligne au
www.desjardinsfuneralchapel.ca.

SIMONE DUREAULT
(nee GAGNE)
December 18, 1924 - May 2, 2020

Our dear mother passed away peacefully on Saturday, May 2, 2020, at the age of 95.
She has reunited with her beloved husband Armand Dureault; her parents, Adélard Gagné and Clotilde Thériault; her brothers and sisters, as well as numerous brothers and sisters-in-law. She leaves to mourn her son Marc Dureault and her daughter Louise Dureault (Paul Styan).
Simone was born in Clarke City in the province of Québec on December 18, 1924, and Manitoba welcomed her following her marriage with Armand. Her Québec roots guided her to maintain close and deep ties with her family back there, as well as with many friends from childhood and adolescence. Simone will always be remembered as a 'bonne vivante' with a sharp sense of humour and a long list of jokes, she was often 'the life of the party'. Her culinary talents were put on display during many meals and evenings shared amongst family and friends.
We wish to thank the staff of Actionmarguerite for their devotion and care of, and most of all their compassion toward Simone over the years.
A private Mass will be held during this time of social distancing.
Family and friends may sign a
Book of Condolence online at
www.desjardinsfuneralchapel.ca.

Salon funéraire Desjardins Funeral Home
204-233-4949


As published in Winnipeg Free Press on May 08, 2020
Condolences & Memories
(16 entries)
Je tiens à transmettre mes plus sincères sympathies à la famille et aux amis de Marc et Louise en cette période des plus difficiles. - Posted by: Lucie Webb (Allard) et famille (amis) on: Oct 07, 2020

Je suis fier de dire qu'Armand et Simone étaient nos amis. J'ai eu la chance de visiter Simone à quelque reprises. Elle était toujours souriante. Accueillante, elle était surtout ravie de discuter des épisodes du passé. Mes sincères condoléances aux membres de sa famille, en particulier Louise et Marc. Rhéal E. Teffaine, c.r. - Posted by: Rhéal E. Teffaine, c.r. (ami) on: May 23, 2020

Louise et Marc, mes sincères condoléances. J'aurai toujours de très bons souvenirs de votre chère maman, en particulier lors de fréquentes rencontres avec Marie pi Johnné. Elle nous faisait rire, c'est sûr ... elle incarnait la gaieté même. - Posted by: Martin Joyal (Ami de la famille) on: May 16, 2020

Dear Louise and Paul I thought of you often on Mother's Day....your first without your dear Mother. I know you have many wonderful memories of your Mother's love and unique characteristics...you often shared with your dear friends!! You were an amazing daughter to both your parents..lovingly supportive through their journeys. They are together again and smiling down on you and Marc with great pride and affection Much love Phyllis - Posted by: Phyllis Gallimore (Friend) on: May 12, 2020

J'offre mes plus sincères condoléances à Louise et Marc. Lorsque j'étais jeune mariée et jeune maman à St Boniface, votre mère m'a accueilli chez elle plusieurs fois. Je l'aimais beaucoup et elle me faisait tellement rire. Une bonne vivante, quand j'arrivais chez Simone je me sentais chez moi, même loin de mon Acadie. Quelle repose en paix avec Armand qui doit l'attendre les bras ouverts et un beau sourire. ❤️ Odette Comeau - Posted by: Odette Comeau (Friend ) on: May 10, 2020

Louise, my deepest sympathies to you and your family members. Your mother's beautiful smile very much reminded me of you. May the memory of her smile brighten your most difficult days. - Posted by: Dawna Csatari (Friend of Louise) on: May 09, 2020

Sending our deepest condolences to you both. May your loving memories bring you comfort during this time. You are in our thoughts and prayers. - Posted by: Tanya and Nguyen (Friend) on: May 08, 2020

Chers Louise(Loulou), Paul et Marc, nous vous offrons nos plus sincères condoléances. Simone, étant qui elle est, a rendu le monde autour d'elle un monde meilleur, rempli d'humour, de gaité, de surprises. Elle était une âme pure et sincère. Sa simplicité et son humilité, la rendait vulnerable, adorable et attrayante. Elle laisse un monde meilleur qu'elle a cultivé autour d'elle, et pour tout ceux qui l'ont connue, et qui l'ont aimée, même pour ces brèves petits moments de nouvelles rencontres qu'elle a croisées sur son chemin et sur lesquelles elle a laissé son empreinte. Merci Simone. Tu es avec toute ton monde maintenant. Que tous les doux souvenirs que vous garderez pour toujours dans vos cœurs, sachent vous réconforter... Jocelyne et Jim, Andrée et Gérald, Odette et Bruce, Charlotte. - Posted by: Odette Sabourin (Friend) on: May 08, 2020

Marc et Louise,mes plus profondes condoléances à vous deux et vos familles J'ai de très bons souvenirs de vos parents,Simone et Armand et de toi,Marc et Louise quand vous étiez petits. Je vous tiens dans mes pensées et mes prières pour vous soutenir dans ses moments difficiles. Avec amour,Madeleine - Posted by: Madeleine Tardi (Friend) on: May 08, 2020

Nos condolences les plus sincères au déces de vote mère. Ronald et Joyce Aquin - Posted by: Ron & Joyce Aquin (Friend) on: May 08, 2020

To Louise,Paul and Marc: Thinking of you all at this difficult time. Cherish the fond memories of your Mom. Please let me know if there is anything I can do for you. My thoughts and prayers are with you. Sheryl - Posted by: Sheryl Phillips (Friend) on: May 08, 2020

Mes sympathies, Marc et Louise. Lorsque vous étiez petits, pendant l'été 1963, j'ai travaillé, comme bonne, chez vous, sur la Lyndale Drive. Je garde de très bons souvenirs de vos parents et de vous tout petits. Que Dieu vous console de votre perte et accueille votre maman dans la maison du Père. - Posted by: Emilienne Bohémier (amie) on: May 08, 2020

Please accept our deepest condolences for the loss of your mother. May you be comforted by the love surrounding you - especially in a time when we cannot celebrate her life together with you. May her spirit brighten the gates of heaven, as she reconnects with your dad and all the family & friends who have gone before. Rest in peace, Auntie Simone. - Posted by: Paul & Cyndi Dureault (Nephew) on: May 08, 2020

Une « bonne vivante », c'est certain! Je garde de beaux souvenirs de ta chère maman Louise. A toi et Marc, mes condoléances profondes. - Posted by: Mariette Mulaire (Amie) on: May 08, 2020

Cher cousin, cousine, Mes enfants Demmi et Tomas Roy-Ferguson se joignent à moi pour vous offrir nos plus sincères condoléances! Les meilleurs souvenirs et surtout les intenses fous rires resteront avec nous pour toujours! Tante Simone était unique en son genre et c'est ce qui fessait la différence... Elle sera toujours dans notre cœurs! Portez vous bien! Tomas, Demmi et Sophie Ferguson - Posted by: Sophie Ferguson (Cousine) on: May 08, 2020

J offre mes plus sincères condoléances à toute la famille je n oublierai jamais ma belle Simone que je considérais comme ma grande soeur elle m a aidée à avoir confiance en moi alors que je n étais que peu expérimentée je n avais alors que 18 ou 19 ans lorsque nous nous sommes connues elle nous a beaucoup fait rire je crois qu elle aurait pu être un stand up comic c était une grande dame une magnifique personne adieu - Posted by: Louise Paquet (Ancienne compagne de travail à Québec et amie) on: May 08, 2020
Email Alerts
Sign up for free email alerts of new obituaries for specific people, towns & more.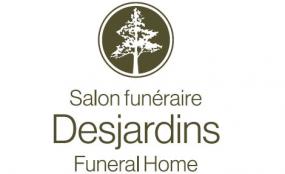 Desjardins Funeral Home
357 Des Meurons St. (Map)
Ph: 2042334949 | Visit Website
❮ Go Back to Listings