Search:

The Carillon Passages
All Titles
Notices are posted by 10 am Monday through Saturday
❮ Go Back to Listings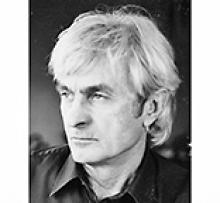 RUDI ENGBRECHT
Born: Apr 02, 1938
Date of Passing: May 02, 2021
Send Flowers to the Family
Offer Condolences or Memory
RUDI ENGBRECHT
April 2, 1938 - May 2, 2021

Rudolph Engbrecht, aged 83 years, of Winnipeg, MB, passed away on Sunday, May 2, 2021 at Riverview Health Centre, Winnipeg, MB.
Rudi is survived by his wife Sharron Seewaldt, the love of his life for 55 years; two sons, Christoff (Rebecca) and Arik; granddaughters, Olivia, Madeleine and Kay; grandsons, Hudson and Remy; sister Margaret (Terry); and brothers, Henry (Erika), George (Rita), Don (Betty) and Ernie (Annie).
He was born in Deloraine, Manitoba on April 2, 1938 and grew up on a farm near Boissevain in an evangelical, Mennonite family. The life of Christ provided him with a powerful metaphor for caring, giving and sacrifice as essentials for a meaningful life.
After repeatedly failing Grade 12 English, he completed a B.A. at United College and a pre-MA in English at the University of Winnipeg. When his English professor encouraged him to accept existing, financial support and complete an English doctorate at Harvard, he declined to continue teaching high school English. Earlier, he had completed course work for an ARCT in Speech Arts and Theatre with the University of Toronto. He spent one year at Aberdeen Junior High, six at Kelvin, 19 at Grant Park, eight as English consultant for the Winnipeg School Division and eight as Faculty Advisor for Teacher Candidates at the University of Manitoba.
In 1983, Coralie Bryant and he duplicated the research of Dr. Patrick Dias, McGill, in which students interpreted text without teacher intervention and where the teacher - using rigorous standards - observed, evoked, clarified and challenged students in their thinking, reading, writing, speaking, listening, presenting, representing, interacting and self/peer evaluation. As he adapted these principles and strategies to all areas of English studies, he shared his work with teachers provincially, nationally and internationally. As consultant, he and colleagues continued to refine this approach for all subject areas. Students used portfolios to record their growing ability to set learning goals, choose content and strategy, learn collaboratively, evaluate their own and each other's learning, and present this learning to parents and educators. He was able to incorporate morsels of these into the Sunday School classes he taught for 20 years.
In the 1970s, he served as executive member and president for the Manitoba Association of Teachers of English (MATE) and 1975 to 1992 as publications coordinator and president for the Canadian Council of Teachers of English (CCTE). In 1993, he was the first and only Canadian to be nominated president elect on the ballet of the National Council of Teachers of English (NCTE, USA). In 1996, he was awarded the Merron Chorny award for English education excellence in Canada. He gave keynote addresses at four national and international conferences satirizing his imagined, reactionary teacher, Max Beltmann. All were published.
He was a sports enthusiast. He played hockey with the Boissevain Border Kings; baseball with Boissevain of the Manitoba Senior Baseball League; softball with Whitewater and fastball with the Winnipeg Black Knights. Whitewater won many tournaments in southwest Manitoba; the Knights won the Manitoba, Senior A Men's Fastball Championship in 1969 and were inducted into the Manitoba Softball Hall of Fame in 2010. In 1968, he was the Industrial League's All-Star centre-fielder. As teacher, he coached the Aberdeen School boys to the school's first and only city, softball championship; as community volunteer, he coached two fastball teams of Sir John Franklin boys to six provincial championships in nine years. Sons, Christoff and Arik were players on the SJF teams.
During his studies and career, debating and theatre became passions. He prized his opportunity to debate students from the Faculty of Law who later represented Canada at the Oxford UK debates. He acted in secondary theatre roles at the universities of Winnipeg and Manitoba, and in a lead role with Winnipeg Mennonite Theatre. As teacher, he mentored student directors for school theatre performances and provincial drama festivals, and for decades, served as coach and staff advisor for school speech and debating clubs spawning provincial and national champions in debating, public speaking and poetry recitation.
He and Sharron danced many Friday nights and New Year's Eves into their mornings, enjoyed 12 trips to European countries and cities, and spent wonderful summers with the boys and grandchildren on their Boissevan farm and in Bissett.
Though he dedicated his retirement to his children and grandchildren, he continued to adjudicate speech festivals in both English and German, and enjoyed opera, theatre, reading, writing, sports, politics, farming and travel.
A livestreamed private family service will be held on Friday, May 7, 2021 at 10:00 a.m.
To join the family via livestream please visit the following link shortly before the time of the service. https://view.oneroomstreaming.com/authorise.php?k=1620093319113609.
Donations in his memory can be made to Boissevain Morton Foundation or to the Mennonite Central Committee.
Arrangements by:
BIRCHWOOD FUNERAL CHAPEL CO-OP
1-204-346-1030 OR 1-888-454-1030
www.birchwoodfuneralchapel.com
As published in Winnipeg Free Press on May 05, 2021
Condolences & Memories
(17 entries)
So very sorry to hear of the passing of Rudi Engbrecht, a true aficionado of literature, a much-valued brilliant teacher and creative administrator, who did so much to bring together students, teachers, readers, and writers. Personally, I consider him one of my favourite Winnipeggers, even though I barely knew him. Since the long-ago days when he was my high school English teacher, I saw him rarely, for brief conversations, and occasionally worked on projects he organized, but I saw his influence over and over again through his programming that brought writers and students together for the benefit of all. He truly made a huge and positive difference to the lives of writers, emerging writers, and everyone in English studies. I always enjoyed seeing him and hearing his news about his family. He was so proud of his wife, sons, and grandchildren. My condolences to you all. May your memories keep you in touch with the good times. With sympathy, Catherine. - Posted by: Catherine Hunter (Colleague) on: Jun 20, 2021

I want to extend my sincere condolences to the family. I had the honour of being taught by Mr. Engbrecht at Grant Park High School many years ago. It was truly a formative experience. To this day I am humbled by his relentless respect for all students and his valiant effort to empower and give and voice to those who might otherwise have been intimidated into silence. In the ensuing years, lessons learned in his classroom, have echoed loudly in many aspects of my life. I hope you will take some comfort in knowing that your husband/father/grandfather/friend left an indelible mark. - Posted by: Susan Kayesar (nee Gillman) (Former student) on: May 17, 2021

Arik's work family at MPI would like to share their condolences to the family and friends. You are in our thoughts during this difficult time. - Posted by: Leanne Seniuk (Friend) on: May 10, 2021

I'm so sorry to hear of Rudi's passing. Although we have had only very sporadic contact since leaving Bissett it was always evident to me that you and Rudi had built a very dynamic, interesting and mutually supportive life together. I'm sure you will miss him greatly but have many great memories to carry with you. My thoughts and prayers are with you. - Posted by: Faye Griffith (Childhood (and continuing) friend of Sharon) on: May 07, 2021

My sincere condolences to Rudi's family, especially to Henry as you are the only person I am well acquainted with. I knew Rudi well as a high school friend. Sometimes after high school we would meet in Winnipeg and he would fill me in on his life and his career. He was a good friend and certainly made an outstanding contribution to his field of Literature. Aside from being a valued member of his family and the community, failing english in grade 12 several times and then going on to make his mark in this field is in my estimation an important accomplishment. A life well lived. Susanna Klassen - Posted by: Susanna Klassen (High school friend) on: May 07, 2021

Very sorry for your loss. I loved my grade 10 English teacher! A great role model for many aspiring England teachers! - Posted by: Gina Lavine (Former student ) on: May 07, 2021

Our sympathy is with the entire Engbrecht family, but especially with Sharron on losing Rudi. I remember fondly our interactions during coffee time after Sunday morning church services. Not exactly debates, my memory is more of Rudi challenging the idea of moment. Almost always I came out of the interaction with more insight than I had going in. Wishing you God's peace and may you find comfort in the memories you hold dear. - Posted by: Rudy and Anne Peters (Friends) on: May 07, 2021

Rudi was an exceptional ELA consultant for the Winnipeg School Division and his leadership as an educator and his love of literature buoyed up teachers and students alike. May his memory be eternal. - Posted by: Val Noseworthy (colleague) on: May 07, 2021

My sincerest condolences to Arik and his entire family on the passing of his dad. Although I never met MR. Engbrecht it seems he lived a remarkable life. May your precious memories of him sustain you during this sad time. Sincerely, Judy Borus - Posted by: Judy Borus (Friend of Arik) on: May 07, 2021

My sincerest condolences and deep prayers of strength to the Engbrecht family. Rudi touched so many lives and gave so much of himself. I always looked forward to "English 300" classes and learned very early on that thinking I could outsmart him by watching 'the movie' instead of reading 'the book' simply was NOT going to work! I hope Rudi is still laughing along with me ..... May the memories of his love warm your hearts and help you through..... The poetry of the earth is never dead. - Keats - Posted by: Debbie Isaacs (Former student) on: May 06, 2021

Rudi was a brilliant teacher, but what I remember best is that he was always selfless, generous, and kind, ready to laugh, full of energy... Audrey Young - Posted by: Audrey Young (colleague and friend) on: May 06, 2021

Rudi and I grew up in the Boissevain area and were always close because of our interest in sports. While we did not play on the same teams [he was four years younger] his father John was always a fan of mine and he was always encouraging Rudi in sports. In Winnipeg Rudi became a staunch member of FMC and I always looked forward to our chat at coffee time to discuss Boissevain and sports. He was involved with many things but always had time to talk. The John Engbrecht Family members were a valued asset to Boissevain and Morton Municipality and will be remembered for their contributions. My sincere condolences to the loss of Rudi. He will be missed. Vern Fast, Surrey BC - Posted by: Vern Fast (Friend) on: May 06, 2021

He was responsible for me understanding to create essay. One of my favorite teachers. Great sorrow - Posted by: Curtis thiessen (Student) on: May 05, 2021

My deepest condolences to all the Engbrecht family. Rudi, 'Mr. Engbrecht', was my English teacher at Grant Park High School. Just writing that sentence brings on a flood of memories... I can still hear his voice, telling me my writing style was like 'bad Bernard Shaw'. Um, Rudi, I think it still is! I remember, particularly, on our grade twelve graduation night, after the dinner, the riverboat dance, and a party at someone's house, a group of about 20 of us went to Rudi and Sharron's house and either camped out in the yard or knocked on their door... I don't remember his reaction, but it can't have been much fun having a bunch of teenagers show up at your house at dawn. I hope that didn't happen every year! But we all admired him so much, and I know he was a vibrant presence in all of our lives. Thank you for what you gave us all, Mr. Engbrecht, of yourself, your wisdom, your integrity, your energy and your love. - Posted by: Margaret Isaacs (former student) on: May 05, 2021

I did not know Rudi but I would like to offer my most sincere sympathy to the family and most of all to Henry! My prayers are with you for the repose of his soul and for the family! - Posted by: Jeannine Vermette snjm (friend) on: May 05, 2021

Rudi was my teacher, mentor and advisor at the UofM. Rudi was great advocate, a kind support and a capable and confident teacher. His kindness, sincerity and personality will be remembered. - Posted by: Ash (Student) on: May 05, 2021

My sympathies go to the entire family for the loss of your husband, dad, granddad, and Henry especially, your brother. You must be grateful for such a passionate life, well lived. Your tears and laughter are undoubtedly joined by many as memories flood your minds, including mine. May God give you all the comfort, joy, and peace in your remembrances. - Posted by: Hildy Dyck (Cousin-in-law) on: May 05, 2021
Email Alerts
Sign up for free email alerts of new obituaries for specific people, towns & more.
❮ Go Back to Listings